Neuroscience
Conferences 2020
Previous
Neuroscience

Conferences
Conferences By Continents
Americas
Asia-Pacific & Middle East
---
Neurology Conference | Stroke Events | Neuroscience Conference | Neurology Disorders Meetings | Brain Disorders | Neurophysiology Conferences 2019
6th Annual Conference on Stroke and Neurological Disorders: ME Conferences is honoured to organize the "6th Annual Conference on Stroke and Neurological Disorders" scheduled during December 02-03, 2019 at Rome, Italy. The Conference highlights the theme "New Emerging Drifts and Tactics on Stroke and Neurological Disorders ". Stroke Meet 2019 is a leading platform for a focused agenda of the current research in the field of Neurology which includes, guest lectures, keynotes, symposiums, workshops, exhibitions, panel discussions and poster sessions. We invite Neurologists; Specialists in neuroscience medicine, General Physicians, Stroke specialists, Oncologists, Surgeons, Researchers, Students, and Business delegates to join us at Rome for the 2-day power packed Neurologists Meet. The main goal of Stroke Meet 2019 Conference is gathering universal experts and eminent people to share and discuss their novel ideas and research work so that it would be beneficial for patients suffering from Stroke and Neurological Disorders and to exchange about state of the art research and technologies. We believe that this conference will stimulate new ideas for treatment that will be beneficial across the spectrum of Brain disorders.
Scientific Sessions: Stroke and Mental Health, Neurological Disorders, Stroke and Cardiovascular Diseases, Brain and Neuromuscular Diseases, Stroke Rehabilitation and Recovery, Epidemiology, Neurophysiology and Neurodegeneration, Brain Tumor and Neuro oncology, Neuroplasticity, Neuroprotection, Neuroimmunology and Neurotransmitters, Pediatric Stroke and Recovery, Neuropsychiatry, Stroke Nursing and Interventions.
Neuron Conferences | World Neuron Congress | Neurology Meetings | Brain Conferences| World Neurologists Meet| Neurosurgery Events |Stroke Conferences |Neuroscience Events
2nd World Neuron Congress: 2nd World Neuron Congress scientific committees welcomes attendees, presenters, and exhibitors from all over the world to attend for the 2nd World Neuron Congress which is going to be held during December 02-03, 2019 at Rome, Italy going to be organized with the Theme-'Explore Recent Advancements in Neurology & Neuroscience: A Peek to Future' which is expected to give in-vogue research phase to Neurologists and will provide an ideal combination of scientific research, an open environment, enabling participants and speakers to effectively concentrate on the academic exchange of ideas. Neuron 2019 means to unite overall renowned scholastics in the field of Neuro-oncologist, Neuro-pharmacologists, Neurologists, Neuro-Paediatrics, Pediatric Oncologists, Neuro surgeons, Neuro physiologists, Neuro informatics, Neuroscience Brain analysts, Public Health experts, Scientists, Academic researchers, Scholars to trade about best in class Research and Technologies and to share a platform in order to convey their insights and recent developments in the field of Neurology.
Scientific Session: Neurology, Neurological Disorders, Neuro-generative Diseases, Central Nervous System, Brain Disorders, Stroke, Cardiovascular Diseases, Alzheimer Diseases, Brain Imaging, Epilepsy, Neurosurgery, Neuropharmacology, Pediatric Neurology, Clinical Neurology, Neuro-spinal Disorders, Neuropsychiatry, Neuroradiology.
Cognitive Conference| Pediatric Neurology Event | Dementia | Neurology Congress | Top Neuro Science Congress | Brain Care Meet| Neuro Science Events | Clinical Neurology Event
26th Cognitive Neuroscience Congress: 26th Cognitive Neuroscience Congress Organizing Committee Cordially welcome you to attend the Neurologists, Neurobiologist, Neurological surgeon, Neuro pathologist, Neuro psychologist, Neuro-physiotherapists, Neuro-radiologists, Neuro-ophthalmologists, Neuroscience Nurse, Neuroscientist, Psychiatrist, Expert in Electrophysiological Studies, Doctors, Students, Scientists,Researchers,Professors,Lecturers,industrialists, Neuro drug Manufacturers from around the globe during December 09-10, 2019 in Dubai, UAE. Neurocognitive 2019 is an international event focusing on the core knowledge and major advances in the ever-expanding field of Neurology, Cognitive science and Psychology by attracting experts on a global scale. It is a global platform to discuss innovative researches and developments in Cognitive Neuroscience and Psychology. It is a golden opportunity to meet eminent personalities and to learn the latest technological advancements. The main theme of the conference is "Scientific Gathering to Unleash the New Horizons in Neurocognitive Study". This conference will provide a comprehensive update on all medical, surgical, interventional, and electrophysiological topics and experts with national and international reputations in various to discuss the innovative researches and developments in the Neuroscience and Cognitive study will address the latest guidelines, practice patterns and solutions in Neuro cognitive medicine.
Scientific Sessions: Cognitive Health, Cognitive Development, Cognitive Psychology, Cognitive Dysfunctions, Neuro Anatomy, Neuroscience and Neurobiology, Molecular Neurobiology, Cellular Neurobiology, Neurological Disorders, Neuro Psychology, Pediatric Neurology& Neuropharmacology, Electrophysiology, Behavioural Psychology, Physiological Psychology, Social Psychology, Brain Mapping, Neurodevelopmental Disorders, Computational Neuroscience, Clinical Neuroscience.
Neurology Conferences | Neurosurgery Conferences | Psychology Conferences | Neurology Events 2020 | Neurosurgery Meetings | Neuroscience Conferences | Brain stoke Conferences | Neurology Conferences Portugal | Neurosurgery Events Lisbon
European Neurosurgery 2020: Neuroscience organizing committee members is very much glad to invite our upcoming esteemed Global Submit on Neurology and Neurosurgery to be held on January 16-17, 2020 at Lisbon, Portugal. European Neurosurgery 2020 anticipates participants from all around the globe to experience thought provoking Keynote lectures, oral, video & poster presentations. This Neurology meeting will offer ample opportunities for all stakeholders working on neurology and neurosurgery to expose their research work. Within this splendid setting, we plan to deliver a conference that will exceed your expectations. Our aim is to enhance self-esteem & belief among psychological patients and to create a familiar environment for them. The main objective of this Neurosurgery event is to promote awareness of proper care of mental health, the risk associated with the improper treatment along with its impact on mental health patient and develop the possibilities to cure Neuropsychiatric Disorder. Global Summit on Neurology and Neurosurgery is an outstanding Scientific Exhibition/Program and anticipates the world's leading Neurologists, health professionals involved in the profession and practice of neurosurgery. The event will also reflect interest of specialists in the clinical research on mental health and neuropsychiatric Disorder. This international event will provide the professionals to gain a better understanding of such diseases, to access treatment as well as information, advice and support and to have their health monitored more closely.
Scientific Sessions: Neurosurgery, Neurological Disorders, Spine Surgery & Disorders, Brain Stroke, Brain Tumour and Gliomas, Pediatric Neurology, Neurosurgical Anomalies, Neuro-Oncology, Neurological Rehabilitation, Neuroimaging and Radiology, Advances in Neuroradiology and Neuroimaging Techniques, Cognition and Behavior Neurology, Neuropsychiatry and Neuropsychology, Neuro Chemistry and Neuro Toxicology, Neuroimmunology, Neuro Pharmacology, Neurophysiology and Neuropathology, Central and Peripheral nervous system, Brain Mapping & Biomarkers, Clinical Neurology, Trauma & Critical Care, Neuro-therapeutics & Case Studies, Clinical Trails and Recent Advancements
Alzheimer's Disease Conferences, Alzheimer's Conference, Dementia Conferences, Alzheimer's and Dementia Conferences, Neurology Conferences, Neuroscience Conferences, Asian Alzheimer's Conferences, Asian Dementia Conferences, Asia Alzheimer's Meetings, Bangkok Alzheimer's Conferences, Bangkok Dementia Meetings, Thailand Alzheimer's Conferences, Thailand Neuroscience Meetings
Conference Series LLC Ltd invites every one throughout the world to attend the "12th World Congress on Alzheimer's Disease and Dementia" during January 23-24, 2020 at Bangkok, Thailand which includes Keynote speeches, Oral talks, Poster presentations, and Exhibitions. Alzheimer's disease (AD), also mentioned as Alzheimer's, is an enduring neurodegenerative disease that usually starts slowly and worsens over time. The most common early symptom of Alzheimer's is difficulty memorizing newly learned information because Alzheimer's changes naturally initiate in the part of the brain that affects learning. As Alzheimer's spreads through the brain, it leads to increasingly severe symptoms, including confusion, mood and behaviour changes; deepening misperception about events, time and place; unfounded suspicions about family, friends and professional caregivers; more serious memory loss and behaviour changes; and difficulty speaking, swallowing and walking.
Conference Highlights: Alzheimer's disease and Dementia | Vascular Dementia | Dementia with Lewy Bodies | Managing Dementia | Imaging Techniques | Pathophysiology and Disease Mechanism | Geriatric and Cognitive Disorder | Animal models and Translational Medicine | Current Research in Therapeutic Targets | Care Practice and Awareness | Behavioural Problems in Alzheimer's disease | Insulin Resistance on the development of Alzheimer's disease | Frontotemporal Dementia| Neurological Diseases| Neurodegenerative Diseases | Alzheimer's Disease and Type 2 Diabetes
Neurology Conference, Neuroscience Conference, Neuro Disorder Conference, Brain Disorder Conference, Neurology and Neuroscience Conference, Asian Neuroscience Conference, Asian Neurology Conference, Alzheimers Conference, Neuroscience Meetings, Hong Kong Neurology Conference, Hong Kong Neuroscience meetings, Asian Neurology Conference.
We cordially welcome your participation for the conference "32nd World Congress on Neurology and Neuroscience" which will be held during March 16-17, 2020 in Hong Kong and will be organized around the theme of "Exploring Contemporary Horizons in Neuro studies". Neuroscience 2020 will be running with International experts from the field of Neurology and Neuroscience, International symposiums, B2B meetings, Workshops will be organized involved in Discussion of the specific topics in the field of Neurology like Neuro Muscular Disorders, Clinical Neurophysiology, Neuro Infectious Diseases, Neurosurgery, Neuropathology, Pediatric Neurology, Neuro-oncology, Brain Tumor etc .Neurogenetics Disorders are commonly observed among developed and developing countries. Dementia is strongly linked with age where Netherlands and other European countries have increasingly ageing population. Currently 16% of the European population is over 65, with this figure expected to reach 25% by 2030. So , the Neuroscience 2020 conference provides a platform to all the participants to discuss Neurology concepts and bring awareness among people related to Neuro disorders.
Conference Highlights: Neurology | Clinical Neurolophysiology | Neurosurgery | Central Nervous System | Pediatric Neurology | Neuromuscular Disorders | Psychiatry and Psychology | Spine and Spinal Disorders | Neurogenetic and Neurometabolic Disorders | Neuropharmacology | Nursing and Neuroscience | Neuroimmunology Neuroinfections | Brain Tumor and Neuro-oncology | Neuroplasticity&Neurorehabilitation | Neuropathology |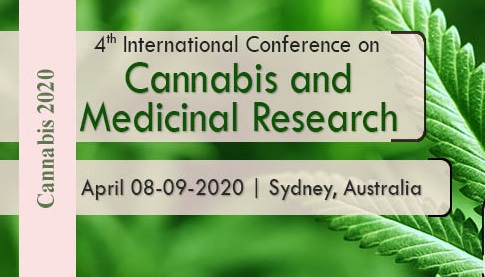 Cannabis Conferences | Neurology Conferences | Addiction Conferences | Cannabis Conferences 2020 | Neurology Conferences 2020 | Addiction Conferences 2020 |
Theme: Challenges and Barriers in Agronomy, Medicinal & upshot of Cannabis
Cannabis Marijuana 2020: 4th International Conference on Cannabis and Medicinal Research scheduled to be held during April 8-9, 2020 at Sydney, Australia. The conference invites all the participants across the globe to attend and share their insights and convey recent developments in the field of Cannabis and Neurology.
Scientific Sessions : Cannabis, Cannabis Cultivation, Medicinal Plant Chemistry, Extraction techniques, Cannabis: Neurology and its Effects on Brain, Neuroimaging, Cannabis & Psychiatry, Addiction, Cannabis Use and Crime, Social Effects of cannabis, Toxicity and Patient Safety, Cannabis - Therapeutics and other Uses, Opioid Effects, Cannabis - Effects on lung health, Biomarkers in Neuroimaging, Treatment & Rehabilitation, Advanced Research on Cannabis, Case Reports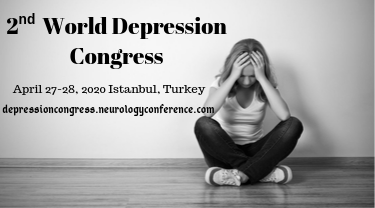 Depression Conferences | Stress Management Conferences | Neuroscience Conference | Psychiatry Conferences | Neuropsychiatry Congress | Mental Health Meetings | Personality Disorders Events
2nd World Depression Congress: DEPRESSION CONGRESS 2020 invites you to attend the International meet of Depression where Psychiatrist, Psychologist, Psychotherapist, Psychoanalysts, Neurologist, Neuropathologist, Neuropharmacologists, Neurophysiologist, Psychobiologist, Biological Psychologist, Neuroscience Nurse, Psychophysicist, Professors and Students can gather from all around the globe during April 27-28, 2020 Istanbul, Turkey in Istanbul, Turkey. It will be a significant opportunity for delegates different Young researchers and scholars to interact with each other regarding the current research topics and share their expertise internationally.
The esteemed Conference is based on the theme "Cutting Edge Researches to Optimize Treatment Success of Mental Health Disorders". The esteemed Event will provide you with a platform to discuss the innovative researches and developments in the field of psychiatry and depression.
Scientific Sessions: Personality Disorders | Mental Illness | Suicide Prevention | Child and Adolescent Mood Disorders | Mindfulness for Mental Well-being | Managing Stress | Geriatric Depression | Resistant Depressive Disorder | Mental Health Rehabilitation | Bipolar Disorder | Suicide Prevention
Dementia Conferences | Alzheimer's Conferences | Neurology Conference | Dementia Meeting | Neuro Conferences | Parkinson's Summit | Machine Learning Summit Conferences | Dementia Congress | International Dementia Conferences
Dementia Conference 2020: After the successful completion of 12th World Congress on Advances and Innovations in Dementia we take the opportunity to announce. Dementia Conference 2020. 13th Annual Conference on Dementia and Alzheimer's Disease, which is held during June 25-26, 2020 at Abu Dhabi UAE. The main theme of our conference is "New Scientific Discoveries and Technologies in Dementia Research" which covers wide range of critically important sessions. It's a platform to bring all the neuroscientists together to share their experiences it's the amalgam of scientific research as well as innovative ideas.
Neurological disorders are diseases of the brain, spine and the nerves that connect them. There is ample evidence that pinpoints neurological disorders as one of the greatest threats to public health. There are more than 600 diseases of the nervous system, such as Alzheimer's disease, brain tumours, epilepsy, Parkinson's disease, and stroke, dementia as well as less familiar ones such as front temporal dementia.
Scientific Sessions: Dementia, Alzheimer's disease ,Vascular Dementia, Frontotemporal dementia, Neurodegenerative Diseases, Brain diseases, Parkinson's diseases, Anxiety & Depression, Animal Models in Dementia, Amyloid protein in dementia, Diagnosis of dementia, Nursing care in Dementia, Dementia Management, Drug Development in Dementia, Recent Advancement in Treatments of Dementia, Clinical Trials & Case Reports in Dementia,
Brain injury conferences 2020| | BRAIN INJURY 2020 Conference | Events | Brain injury Summits | Best Meetings | Europe |Copenhagen, Denmark | Brain injury conferences 2020
Theme: "Scientific Insights of Brain Disorders, Brain Research & Neuroscience Research Innovations"
The WorldmCongress on Advances in Braininjury& Neuroscience Disorders and Therapeutics would be a stage for interconnecting National and Global specialists, scientists and chiefs both from the scholarly world and industry from everywhere throughout the world to trade their insight, skill and research developments in the field of Brain issue, Neurology ,TBI and Mental illness. BRAIN INJURY 2020 welcomes all the attendees, speakers, sponsor's and other research expertise from all over the world to the "10th International Conference on Brain Injury & Neuroscience (BRAIN INJURY 2020)" which is going to be held during Aug 17-18, 2020 in Copenhagen, Denmark. We are very much honoured to invite you all to exchange and share your views and experience on the" Innovative Approaches in Brain Injury& Neuroscience ".These Brain Issue and Neurology meeting is a station for trading thought and learning on Cerebrum damage, brain tumor, brain Issue, Neurology, Neuroscience, Neuroimaging, and Neurological issue. This conference includes the investigation identified with the conclusion and treatment of infection or failing of the cerebrum, muscles, fringe nerves, spinal cord,skull and autonomic sensory system. The target of the gathering is to keep up and create science and related research at a universal level. To accomplish this, it is vital to carry into a significant field of neurology with the novel investigations, which can spare a huge number of lives we Navigating the Future Advancements in Brain injury & Neuroscience.
The Brain Injury 2020 Market is relied upon to reach $18 Billion by 2024. Geologically, North America represents the most elevated piece of the overall industry pursued by Asia-Pacific. The Asian nations particularly China and India are the quickest developing areas. Asia-Pacific is anticipated to develop with a most noteworthy CAGR from 2017 to 2024.
Scientific Sessions : Anoxic Brain Injury; Neuro behavioral Symptoms; Intracranial Hemorrhage Mortality; Amyotrophic Lateral Sclerosis (ALS); Brain Injury; Traumatic Brain Injury; Molecular and cellular neuroscience; Neurobiology; Brain Disorders and Pathophysiology; Neurosurgery and Central Nervous System; Mental illness; Alzheimer's Disease & Dementia; Brain Stem Stroke; Mental Health Therapies; Brain Injury Biomarkers.
Brain Death Conferences | Brain Injury Conferences | Stroke Conferences | Top Neurology Conferences | Pediatric Brain Diseases | Mental Illness Conferences
Theme: Glimpses of Novel Concepts on Cessation of Brain Functions
Brain Death 2020: 13th Annual Brain Death Congress is scheduled to be held during October 21-22, 2020 in Shanghai, Chine. Brain Death 2020 is pleased to invite you to participate in an event that brings together researchers who are at the vanguard in the field of Brain Death, Brain Injury and Mental Illness. Neuroscience professionals, researchers, professors, scientific communities, delegates, students, business professionals, Industries and executives to confer and acquire more information regarding brain death researchers. The scientific program will include oral presentations, keynote sessions led by eminent scientists and poster sessions presented interactively by junior scientists, PhD Students and master students. The global neuroscience market size was valued at USD 28.42 billion in 2017 and is anticipated to grow at a CAGR of three.1% over the forecast amount. High influencing factors like in progress brain mapping analysis and investigation comes, neuroscience-based initiatives by government bodies, and technological advances in tools and algorithms that area unit enforced in neuroscience space, are expected to propel the market growth.
Scientific Sessions: Brain Death, Brain Injury, Brain Death Causes, Brain Death Diagnosis, Brain Death and Disorders of Consciousness, Brain Tumour, Coma vs. Brain Death, Brain Stem Stroke, Mental Illness, Pediatrics Brain Diseases, Rehabilitation of Traumatic Brain Injury, Clinical Evaluation of Brain Death, Anoxic Brain Injury, Nursing and Intensive Care practices, Organ Donation and Complications, Miscellaneous Neurological Disorders
Major Neurology Associations:
Acoustic Neuroma Association and ADA Disability and Business Technical Assistance Program
Aicardi Syndrome Foundation and Alliance for Aging Research
ALS Association and ALS Therapy Development Institute
Alternating Hemiplegia of Childhood Foundation and Alzheimer's Drug Discovery Foundation
Alzheimer's Association and Alzheimer's Foundation of America
American Association on Health and Disability and American Autoimmune Related Diseases Association
American Behcet's Disease Association and American Brain Coalition
American Brain Tumor Association and American Cancer Society
American Headache Society Committee for Headache Education and American Heart Association
American Liver Foundation and American Parkinson Disease Association
American RSD Hope Organization and American Sleep Apnea Association
American Speech-Language-Hearing Association and American Stroke Association
Association for Glycogen Storage Disease and Association for Science in Autism Treatment
Attention Deficit Disorder Association and Autism National Committee
Autism Network International and Autism Research Institute
Autism Science Foundation and Autism Society of America
Autism Society of America Foundation and Autism Speaks, Inc.
Barth Syndrome Foundation , Inc and Batten Disease Support and Research Association
Brain Aneurysm Foundation and Brain Injury Association of America, Inc.
Brain Injury Resource Center and Brain Trauma Foundation
Caregiver Action Network and Carter Center for Brain Research in Holoprosencephaly
Cerebral Palsy Foundation and CHADD
Childhood Brain Tumor Foundation
Children's Brain Disease Foundation and Children's Brain Tumor Foundation
Children's Hemiplegia and Stroke Association and Children's Tumor Foundation
Christopher and Dana Reeve Foundation
Coma/Traumatic Brain Injury Recovery Association and Compassionate Friends
Epilepsy Foundation and Epilepsy Institute
Fibromuscular Dysplasia Society of America and Fibromyalgia Network
Hereditary Disease Foundation and Hereditary Neuropathy Foundation, Inc
Huntington's Disease Society of America
International Radio Surgery Association
Intractable Childhood Epilepsy Alliance
Jain Foundationand John Douglas French Alzheimer's Foundation
Learning Disabilities Association of America and Les Turner ALS Foundation
Lewy Body Dementia Association
Lowe Syndrome Association
Lupus Foundation of America and Lupus Research Institute
Michael J. Fox Foundation for Parkinson's Research
Migraine Research Foundation
Multiple Sclerosis Association of America and Multiple Sclerosis Foundation
Multiple System Atrophy Coalition and MUMS National Parent to Parent Network
Brain Tumor Research and Information
Myelin Repair Foundation and Myositis Association
National Aphasia Association
National Association of Hospital
National Headache Foundation and National Health Council
National Hospice and Palliative Care Organization and National Hydrocephalus Foundation
National Meningitis Association and National MPS Society , Inc.
National Multiple Sclerosis Society
National Parkinson Foundation
National Patient Travel Center and National Rehabilitation Information Center
National Respite Network and Resource Center and National Reye's Syndrome Foundation
National Shingles Foundation and National Sleep Foundation
National Spasmodic Dysphonia Association and National Spasmodic Torticollis Association
National Spinal Cord Injury Association and National Stroke Association
NBIA Disorders Association and Neurofibromatosis Network
Neuropathy Association and Nevus Outreach , Inc
Parent Project Muscular Dystrophy and Parkinson Alliance
Parkinson's Action Network and Parkinson's Disease Foundation
Parkinson's Institute and Clinical Center and Parkinson's Resource Organization
Pituitary Network Association and PMD Foundation
Project ALS and Pseudo tumor Cerebri Support Network
Rehabilitation International and Research Center for Stroke
Research! America and Restless Legs Syndrome Foundation
Spastic Paraplegia Foundation and Spina Bifida Association
Spinal Cord Society and Spinal Muscular Atrophy Foundation
United Brachial Plexus Network and United Cerebral Palsy
United Leukodystrophy Foundation and United Mitochondrial Disease Foundation
United Spinal Association and Vascular Birthmarks Foundation
Williams Syndrome Association and Wilson Disease Association
World Health Organization.
Neuroscience Journals:
The Lancet Neurology
Alzheimer's and Dementia
Annals of Neurology
Brain; a journal of neurology
Acta Neuropathologica
Nature Reviews Neurology
Neuroscientist
Stroke
Neurology
Sleep Medicine Reviews
JAMA Neurology
Molecular Neurodegeneration
Neuro-Oncology
Brain Research Reviews
Human Brain Mapping
Journal of Neurology, Neurosurgery and Psychiatry
Journal of Cerebral Blood Flow and Metabolism
Epilepsia
Neurobiology of Aging
Movement Disorders
Neurotherapeutics
Sleep
Neurorehabilitation and Neural Repair
Current Opinion in Neurology
Autism Research
Cortex; a journal devoted to the study of the nervous system and behavior
European Neuropsychopharmacology
Journal of Neuropathology and Experimental Neurology
Multiple Sclerosis
Journal of Neurodevelopmental Disorders
Neuropathology and Applied Neurobiology
Journal of Neurosurgery
Brain Stimulation
Journal of Pain
Brain Imaging and Behavior
Journal of Neurotrauma
American Journal of Neuroradiology
CNS Drugs
Neural Plasticity
Spine
Brain Pathology
Cerebrovascular Diseases
Current Alzheimer Research
Developmental Medicine and Child Neurology
Journal of Neurosurgery: Spine
Alzheimer's Research and Therapy
Neurosurgery
Aging and Disease
Top Pharmaceutical Firms:
Novartis
Pfizer
Roche
Sanofi
Merck & Co.
Johnson & Johnson
GlaxoSmithKline
AstraZeneca
Gilead Sciences
Takeda
AbbVie
Amgen
Teva
Lilly
Bristol-Myers Squibb
Bayer
Novo Nordisk
Astellas
Boehringer Ingelheim
Actavis
Otsuka
Daiichi Sankyo
Biogen Idec
Baxter
Merck KGaA
Conferenceseries not only hosts International Neurology conferences but also organizes scientific conferences in the fields of medical, life sciences, engineering, management, chemistry and pharmacy segments providing an exclusive choice for the exhibitors to choose and promote products or service to a large and varied range of audience creating a prospect to socialize and build connections.
Recently prevention and better treatment of neurological disorders are within reach due to recent breakthroughs in neuroscience-vastly improving our understanding of the genetic, epigenetic, molecular, and cellular mechanisms; structure; and neuronal circuitry underlying normal and pathological brain function. Conferenceseries conferences organize 300+Neuroscience conferences every year to share the advancement in the field of neuroscience.