Nephrology
Webinars & Conferences
Nephrology Content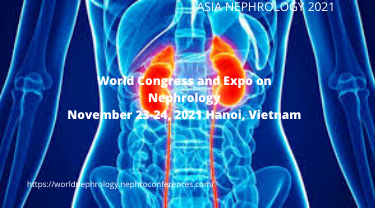 Nephrology Conferences | Nephrology Conferences 2020 | Asia Pacific Nephrology conferences | Asia Nephrology Conferences | Kidney Conferences | Nephrology Meetings |
Asia Nephrology 2021 : Conference Series LLC Ltd invites all the participants across the globe to attend the World Congress and Expo on Nephrology which is scheduled to organize on November 23-24, 2021 Hanoi, Vietnam. Asia Nephrology 2021 will discuss the latest research technologies and therapeutic aspects developed for various kidney diseases which include renal transplantation, dialysis equipment's and other procedures involved in treatment of Chronic Kidney Diseases and End Stage Renal Diseases. This year's annual Conference highlights the theme "Uniting the World to Enhance Nephro Well Being".Asia Nephrology 2020 is a unique platform to meet fellow key decision makers and experts' all-around nephrologists and kidney specialists from leading universities and research institutions making the conference perfect platform to share experience, Research talks, foster collaborations put forward many thought provoking strategies across industry and academia, and evaluate emerging technologies across the globe.
Scientific Sessions: Nephrology, Etiology and Pathogenesis of Kidney Diseases, Kidney and Bladder Stones, Acute Kidney Injury, Chronic Kidney Diseases, End Stages Renal Diseases, Glomerular Disorders, Kidney cancer, Hypertension Associated with Kidney Diseases, Diabetic Nephropathy, Pediatric Nephrology, Clinical Nephrology, Treatment and Surgery for Renal Diseases, Renal Dialysis and Procedures, Diagnostic Techniques of Kidney Diseases, Kidney Transplantation, Renal Nutrition, Drugs for Kidney Diseases
Nephrology Conferences , World Nephrology, World Nephrology hybrid, World Nephrology hybrid event, World Nephrology hybrid Conferences, World Nephrology hybrid events, World Nephrology Podcast, World Nephrology hybrid events, World Nephrology hybrid Conferences , World Nephrology Conferences , World Nephrology conference, World Nephrology
WORLD NEPHROLOGY 2023: 19th World Nephrology Conference is scheduled to be held during May 15-16, 2023 Singapore City, Singapore. WORLD NEPHROLOGY 2023 is a global webinar on Nephrology that aims to bring together experts, researchers, doctors, and students from all over the world to attend the WORLD NEPHROLOGY 2023 webinar on May 15-16, 2023. Thus, to share the most recent trends and innovations in kidney health, as well as practical research development experiences. We cordially invite all experts from around the world to attend this summit, which will feature keynote speeches, speaker presentations, poster presentations, and exhibitions. Many interesting lectures by participants, Keynote lectures, Oral speakers, and a short note by eminent personalities from around the world will be presented at WORLD NEPHROLOGY 2023. We hope that you will take advantage of this year's Conference to rekindle existing connections and forge new ones with colleagues from around the world.
The goal is to provide a summary of the most recent research developments while also outlining future directions in the field of Nephrology. We are confident that you will enjoy the Conference and that your interactions with colleagues from around the world will stimulate the exchange of ideas with experts.
Finally, WORLD NEPHROLOGY 2023 serves as a platform for global communication and collaboration among young researchers, engineers, and students.
Scientific Sessions: [Hyperlink to your track session]
Nephrology and Therapeutics, Acute Kidney Injury, Nephrology Nursing, Clinical Nephrology, Paediatric Nephrology, Kidney Stones, Renal Dialysis, Chronic and End Stage Renal Diseases, Diabetes and Hypertension, Renal Transplantation and Immunology, Kidney Cancer, Paediatric Nephrology, Kidney stones
Nephrology Associations and Societies:
International Society of Nephrology (ISN)
American Society of Nephrology (ASN)
Indian Society of Nephrology
Canadian Society of Nephrology (CSN)
Hong Kong Society of Nephrology (HKSN)
The Renal Association
Australian and New Zealand Society of Nephrology (ANZSN)
Malaysian Society of Nephrology (MSN)
National Kidney Foundation (NKF)
Saudi Society of Nephrology and Transplantation (SSN&T)
Spanish Society of Nephrology
Spanish Dialysis and Transplant Society
Spanish Dialysis Foundation
Danish Society of Nephrology
Swedish Society of Nephrology
British Association of Pediatric Nephrology
French Society of Nephrology
Polish Society of Nephrology
Albanian Society of Clinical Nephrology
Belgian Society of Nephrology
Austrian Society of Nephrology
German Society of Nephrology
The Renal Association (UK)
The Philippine Society of Nephrology
Kidney Disease Association‎
The National Kidney Foundation
Indian society of nephrology
The Asian Pacific Society of Nephrology
Emirates medical association on nephrology society
Westbay Nephrology Association
Pacific Nephrology Med Association
Tseng Robert R MD-Westbay Nephrology Association
ClinMed International Library of Nephrologists
International Federation of Kidney Foundations
American Kidney Fund (AKF)
American Society of Transplantation (AST)
American Society of Diagnostic & Interventional Nephrology (ASDIN)
Board of Nephrology Examiners, Inc. Nursing and Technology (BONENT)
California Dialysis Council (CDC)
International Society for Peritoneal Dialysis (ISPD)
International Society for Hemodialysis (ISHD)
International Society for Nephrology Technicians and Technologists (ISNTT)
National Kidney Foundation (NKF)
National Renal Administrators Association (NRAA)
Renal Physicians Association (RPA)
International Society of Renal Nutrition and Metabolism
Irish Nephrology Society
Kosovo Society of Nephrology
Latvian Association of Nephrology
Moroccan Society of Nephrology
Dutch Federation of Nephrology
Polish Society of Nephrology
Portuguese Society of Nephrology
Romanian Society of Nephrology
Russian Dialysis Society
Serbian Society of Nephrology
Slovenian Society of Nephrology