Nephrology
Webinars & Conferences 2020
Nephrology
Conferences 2021
Previous
Nephrology

Conferences
Speakers list from related conferences
Webinars & Conferences By Continents
Americas
Asia-Pacific & Middle East
---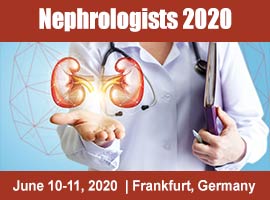 Nephrology Conferences | Nephrologist Conferences | Kidney Conferences | International Nephrology Conferences | Nephrology and Urology Conferences
Nephrologists 2020: 21st Global Nephrologists Annual Meeting is scheduled to be held during June 10-11, 2020 at Frankfurt, Germany. Nephrologists 2020 is the premier event that brings together a unique and international mix of experts, researchers and decision makers from both academia and industry across the globe to exchange their knowledge, experience and research innovations as this will be the best integration of academia and research involving every aspect of Nephrology. Nephrology Conferences provides the perfect platform for Pharmaceutical, Nephrologists, Clinical Research, Nephrology professionals, researchers, professors, scientific communities, delegates, students, business professionals and executives to discuss and learn about novel findings in Nephrology. The global size of the market for nephrology and urology devices in 2016 was estimated at USD 18.03 billion and is expected to develop over the forecast period at a CAGR of 7.1 per cent. Increasing prevalence of kidney failure and end-stage renal diseases has resulted in clinical necessity for technologies capable of improving current patient outcomes and curbing the long-term costs of treating kidney disease.
Scientific Sessions: Nephrology, Pediatric Nephrology, Clinical Nephrology, Dialysis, Kidney Transplantation, Renal Nutrition, Nephrology Nursing & Health Care, Kidney Diseases, Hypertension & Diabetic Associated Kidney Diseases, Cardiovascular Impacts of Kidney Diseases, Kidney and Bladder Stones, Urology & Urinary Tract Infections, Glomerular Diseases, Tubular and Interstitial Diseases, Hereditary Kidney Disorders, Renal Pathology-Immunology, Nephrological Treatment, New Updates in Nephrology and Hypertension, Nephrologists & Entrepreneurs Investment Meet.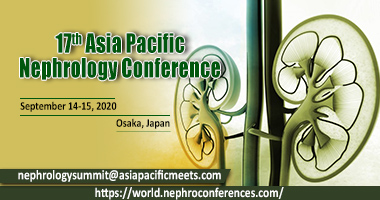 Nephrology Conferences | Urology Conferences | Kidney Conferences | Renal Care Conferences | Medical Conferences | Dialysis Conferences | Nephrology Conferences 2020 | Nephrology meetings | Nephrology conferences Japan| Nephrology Events | Nephrology Symposium | World Nephrology Conference | Japan conferences
Nephrology Summit 2020: 17th Asia Pacific Nephrology Conference is the world's leading conference for Nephrology professionals to gather and contribute their research for developing the new techniques in the field of Nephrology. Nephrology Summit 2020 is schedules to be held in during September14-15, 2020 at Osaka, Japan. Nephrology Conferences will bring together nephrologists, general physicians, practitioners, researchers, academicians in a universal forum, enabling the exchange of novel advancement in the field of Nephrology in both science and practice. Nephrology Summit 2020 is the best place to enhance networking and would provide opportunity to interact with world's leading scientists and researchers. This Nephrology Conference moves around the theme: Novel Discoveries in the field of Nephrology, and will address fast mounting technology rapidly changing the nephrology with significant opportunities for kidney diseases.
Conference Highlights: Nephrology |Metabolic, Fluid & Electrolyte disorders | Pediatric Nephrology | Geriatric Nephrology| Diabetic Nephropathy| Nephrology Nursing | Clinical Nephrology| Renal Nutrition & Metabolism | Urinary Tract Infection & Urology | Technological Advancements in Nephrology | Renal Transplantation and Immunology| Onconephrology and Nephritis | Renal Nutrition, Inflammation, and Metabolism| Kidney/Urology/Urinary Tract Infections | Dialysis and Renal Care | Nephrologists & Entrepreneurs Investment Meet.
Nephrology Associations and Societies:
International Society of Nephrology (ISN)
American Society of Nephrology (ASN)
Indian Society of Nephrology
Canadian Society of Nephrology (CSN)
Hong Kong Society of Nephrology (HKSN)
The Renal Association
Australian and New Zealand Society of Nephrology (ANZSN)
Malaysian Society of Nephrology (MSN)
National Kidney Foundation (NKF)
Saudi Society of Nephrology and Transplantation (SSN&T)
Spanish Society of Nephrology
Spanish Dialysis and Transplant Society
Spanish Dialysis Foundation
Danish Society of Nephrology
Swedish Society of Nephrology
British Association of Pediatric Nephrology
French Society of Nephrology
Polish Society of Nephrology
Albanian Society of Clinical Nephrology
Belgian Society of Nephrology
Austrian Society of Nephrology
German Society of Nephrology
The Renal Association (UK)
The Philippine Society of Nephrology
Kidney Disease Association‎
The National Kidney Foundation
Indian society of nephrology
The Asian Pacific Society of Nephrology
Emirates medical association on nephrology society
Westbay Nephrology Association
Pacific Nephrology Med Association
Tseng Robert R MD-Westbay Nephrology Association
ClinMed International Library of Nephrologists
International Federation of Kidney Foundations
American Kidney Fund (AKF)
American Society of Transplantation (AST)
American Society of Diagnostic & Interventional Nephrology (ASDIN)
Board of Nephrology Examiners, Inc. Nursing and Technology (BONENT)
California Dialysis Council (CDC)
International Society for Peritoneal Dialysis (ISPD)
International Society for Hemodialysis (ISHD)
International Society for Nephrology Technicians and Technologists (ISNTT)
National Kidney Foundation (NKF)
National Renal Administrators Association (NRAA)
Renal Physicians Association (RPA)
International Society of Renal Nutrition and Metabolism
Irish Nephrology Society
Kosovo Society of Nephrology
Latvian Association of Nephrology
Moroccan Society of Nephrology
Dutch Federation of Nephrology
Polish Society of Nephrology
Portuguese Society of Nephrology
Romanian Society of Nephrology
Russian Dialysis Society
Serbian Society of Nephrology
Slovenian Society of Nephrology