Euro Case Reports 2017 Report
Conference Series proudly announces the successful completion of the 5th European Clinical and Medical Case Reports Conference (Euro Case Reports 2017) held during September 07-08, 2017 Paris, France with the support and contribution from the esteemed Organizing Committee Members, Speakers, Delegates, Media Partners and other supporters.
Firstly, we are thankful to you for trusting us and a part of the Euro Case Reports 2017, a global platform to discuss various important aspects of clinical research and case studies. There are infinite reasons to extend our gratitude to all our supporters for making the Euro Case Reports 2017 a great conference. We couldn't have done it without your continuous support and believe towards our organization, which mutually made to achieve Euro Case Reports 2017 a new height in the field of healthcare.
The conference was manifest with the presence of global experts both from academia and industries, young and brilliant researchers, business & academic delegates and student communities from more than 25 countries, who have driven this conference into the path of success.
Euro Case Reports-2017 was based on the theme "A complete visualization of health care in one place.". The event rooted a firm relation of upcoming strategies in the field of Pathology with the medical community and promoted many collaborated research activities. The conference witnessed an amalgamation of peerless speakers, Keynote/plenary speakers, well-known researchers and delegates who enlightened the crowd with their enviable research knowledge and on various alluring topics related to the field of medicine & healthcare through their fabulous presentations at the platform of Case Reports 2017.
Conference Series Ltd. offers its heartfelt gratitude and appreciation to all the Organizing Committee Members, Keynote Speakers, Chairs and Co-chairs, Speakers, Students, Media Partners and Editorial Board Members of Journal of Clinical Case Reports, Journal of Pulmonary & Respiratory Medicine, Journal of Clinical & Experimental Cardiology who supported the conference in every aspect for the awe-inspiring exhibition at the venue.
A Special thanks to the Organizing Committee Members of Case Reports-2017, Keynote Speakers, Chairs and Co-chairs without whom it might have a very difficult scenario for us to deliver the amazing conference.
So as continuation of Case Reports Conferences series, we would like to heartily welcome you to our upcoming 9th International Conference on Clinical & Medical Case Reports (Euro Case Reports-2018), September 24-25, 2018 at Amsterdam, Netherlands.
We look forward to seeing your benign presence with active contribution and support to make this upcoming Euro Case Reports Conference a huge success.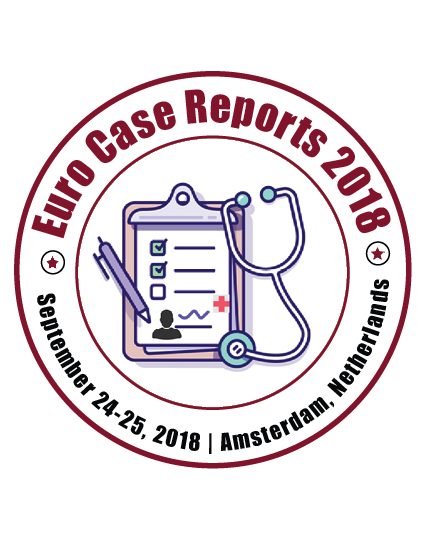 Lets meet again @ Amsterdam for Euro Case Reports-2018