EEE & Engineering
Webinars & Conferences
EEE & Engineering Content
Industrial Engineering conferences | Production Engineering |Design Engineering | Mechanical Engineering | EEE & Engineering Conferences
Theme: "Exchange of Technological Advances in the field of Industrial Engineering"
Industrial Engineering 2020 : International Summit on Industrial Engineering inviting the scientific community across the globe to attend during May 11-12, 2020 at Munich, Germany with a motto to Exchange of Technological Advances in the field of Industrial Engineering. Industrial engineering can cover technologies on advancement within the numerous fields of Engineering and can offer a singular forum for the publication of innovative analysis on the event of other related technologies and development. Industrial engineering 2020 will lead together experts, researchers, scholars and students from all areas of Mechanical engineering this includes Industrial engineering, Design engineering, Manufacture engineering, Vehicle engineering, Production engineering, Mechatronics. Share your enthusiasm in promoting new ideas, advancements, and innovations in the field of Industrial engineering. Germany organizations are among the most innovative in Europe. Industry-based and - financed investment account represent more than two by third all R&D subsidizing in Germany.
Scientific Sessions : Big data analytics , Decision Analysis and Methods , Engineering Economy and Cost Analysis , Healthcare Systems and Management , Ergonomics and Innovation, Information Processing and Engineering , Operations Research and Supply Chain Management , Production Planning and Control , Project Management , Quality Control and Construction Management , Reliability and maintenance engineering , Systems Modelling &Simulation , Mechatronics, Robotics and Telecommunications , Advanced Robotics Technologies and Flexible Automation , Industry management and Quality Engineering , Manufacturing Models, Planning and Scheduling , Materials characterization , Industrial engineering and systems management , Safety, security and risk management , Facilities Planning and Management , Computer Aided Design and Manufacturing , Advanced Bio manufacturing and Laser Processing Technologies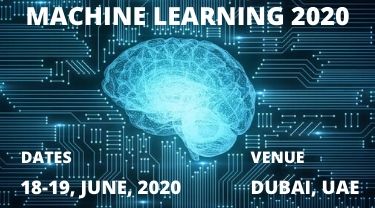 Machine Learning Conferences | Artificial Intelligence Conferences | Neural Networks Conference | Machine Learning Meeting | Deep Learning Conferences | Deep Learning Summit | Machine Learning Summit Conferences | Machine Learning Congress | International Machine Learning Conferences
7th World Machine Learning and Deep Learning Conference: We take the privilege of hosting the 7th World Machine Learning and Deep Learning Conference worldwide and with the valuable support of Scientific Committee Members we are very excited to announce our next meeting at Dubai, UAE during June 18-19, 2020. The main theme of the conference is "New way of communicating your wishes to a computer". This conference aimed to expand its coverage in the areas of Artificial Intelligence, Machine Learning and Deep Learning where expert talks, young researcher's presentations will be placed in every session of the meeting will be inspired to keep up your enthusiasm. We feel our expert Organizing Committee is our major asset, however, speakers are what make events stand out. 7th World Machine Learning and Deep Learning Conference is bringing the most innovative minds, practitioners, experts and thinkers to inspire and present to the delegates new innovative ways to work and innovate through their data. Your presence over the venue will add one more feather to the crown of Machine Learning 2020.
Scientific Sessions: Artificial Intelligence, Machine Learning, Deep Learning, Deep Learning Frameworks, AI & Machine Learning in HealthCare & Medical Science, Artificial Neural Networks (ANN), Natural Language Processing (NLP) and Speech Recognition, Pattern Recognition, Facial Expression and Emotion Detection, Computer Vision and Image Processing, Robotic Process Automation (RPA), Virtual Reality And Augmented Reality, Internet of Things (IoT), Big Data, Data Science and Data Mining, Big Data Analytics, Predictive Analytics, Cloud Computing
Biosensors Conferences | Bioelectronics Conferences | World Congress on Biosensors | Bioelectronics Meetings
Euro Biosensors 2020: 12th Euro Biosensors & Bioelectronics Congress is scheduled to be held during August 04-05, 2020 at Zurich, Switzerland. Euro Biosensors 2020 brings in a new spin on conferences by presenting the latest scientific improvements in Biosensors and Bioelectronics. This conference permits leading educational scientists, researchers and industrialists from everywhere the planet to exchange and share their experiences, recent innovations, sensible challenges, advanced instrumentation and analysis results. Biosensors Conferences provides the perfect platform for Scientists, Experts, Academic Professors, Practitioners, Software Professionals, Business delegates, scholars, Young researchers, Talented student community and researchers in the field of Biosensors, Biomedical engineering, Nanotechnology, Point of Care, Home Diagnostics, Biodefense, business professionals and executives to discuss and learn about novel findings in Biosensors. Optical biosensor market size is expected to grow at the fastest CAGR of 8.7% throughout the forecast period. U.S. biosensors market size holds 81% of regional revenue share in 2015, attributed to increasing prevalence of diseases such as diabetes and cardiac disorders and early adoption of technologically advanced products by the clinicians, scientists, and patients. Asia Pacific, on account of its constantly improving healthcare facilities, growing access to healthcare, and rising patient awareness is expected to witness the highest CAGR of 11.1% during the forecast period.
Scientific Sessions: Biosensors, Biosensing Technologies, Enzyme-based biosensors, Biosensor Applications, Biochips & Nucleic Acid Sensors, Types of Biosensors, Bioinstrumentation & Equipment's, Euro Biosensors 2020, Bioelectronics, Nanotechnology in Biosensors, Biosensors 2020 Canada, Transducers in Biosensors, Bio-MEMS/NEMS, Biosensors for Imaging, Photonic Sensor Technologies, Bioelectronics Conferences Asia, Environmental Biosensors, Biosensors & Global Market
Computer Graphics Conferences 2020 | Animation Meetings | Gaming Symposiums| Computer Graphics Canada | Animation Conference
7th International Conference on Computer Graphics & Animation is scheduled to be held during September 25-26, 2020 at Vancouver, Canada with theme "Innovate the immersive environments with Computer Graphics and Animation". Computer Graphics & Animation 2020 is an academic and business opportunities for next generation technologies and strategies from the world of Computer Graphics, Animation, Game Design & Development, GPU Technology, Virtual Reality, Computer Vision, Human-computer Interaction and CGI Companies an opportunity to explore and discover the latest trends and research technology implementation of Computer Graphics field in driving forward your knowledge & business in 2020 and beyond. This conference consist of Oral presentations, Poster Presentations, Workshops/Symposiums, Young Researcher Forums, Exhibition to discuss the current trends, challenges, regulatory matters and future opportunities of Computer Graphics, Animation & interactive techniques.
Scientific Sessions: Computer Graphics; Computer Animation; Animation Industry; Modeling; Simulation; GPU Technology; Game Design & Development; Gamification and Social Game Mechanics; Artificial Intelligence in Computer Graphics; Computer Graphics Applications; Computer Vision & Pattern Recognition; Virtual, Augmented and Mixed Reality; Imaging and Image Processing; Rendering; Visualization & 3D Printing; Human-Computer Interaction; 3D Web Technology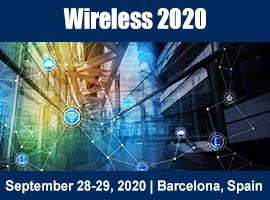 Wireless Conferences | Telecommunications Conferences | IoT Conferences | Networking Conferences | Computer Networking Conferences
Wireless 2020: 6th International Conference on Wireless, Telecommunication & IoT is scheduled to be held during September 28-29, 2020 at Barcelona, Spain. Wireless 2020 is the premier event that brings together a unique and international mix of experts, researchers and decision makers from both academia and industry across the globe to exchange their knowledge, experience and research innovations as this will be the best integration of academia and research involving every aspect of Wireless technology. Wireless Conferences provides the perfect platform for Aerospace Engineers, Space Agencies, researchers, professors, scientific communities, delegates, students, business professionals and executives to discuss and learn about novel findings in Wireless technology. The global market for Wireless Communication Market 2019 keenly analyzes significant features of the industry. That intensifies growth and makes a remarkable stand in the industry. The Wireless Communication market will grow with a significant CAGR between 2019 to 2028.
Scientific Sessions: 5G and Beyond, Telecommunication, Wireless Communication, Internet of Things (IoT), Ad Hoc and Sensors Networks, Technology for Wireless, Mobile and Wireless Network, Satellite Communication, Wireless Conferences 2020 Optical Communications, Microwave Communication, Remote Sensing, Radar Technology, Radio Broadcasting, Wireless 2020,Antennas, Digital Signal Processing, Cloud Computing, Big Data, Real Time Embedded Systems, Green Communication, Wireless Research Conferences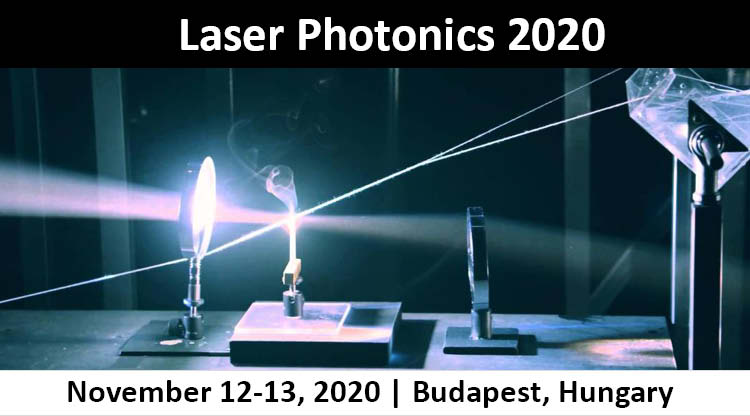 Laser Photonics conferences 2020 | Laser Photonics 2020 Conference | Events | Laser Photonics Summits | Best Meetings| Europe | Budapest, Hungary | Laser Photonics conferences 2020
Theme: "Exploring the Innovations and Advancement of Laser, Optics & Photonics"
We heartily welcomes all of you to the "European Meet on Lasers, Optics and Photonics" during Nov 12-13, 2020 at Budapest, Hungary. The Theme of the gathering is "Investigating the Innovations and Advancement of Laser, Optics, and Photonics''. The Committee is anticipating arrange an amazing gathering with new and intriguing sessions and to meet new individuals where one can share one's subject and enthusiasm. At Laser Photonics 2020 one can secure new thoughts, advances that will be extremely helpful for growing the information in the concerned field and engendering the new ideas to improve oneself and also our professional career.
The Laser Photonics 2020 Conference in Budapest will likewise be a typical stage to encounter B2B Meetings, Panel Discussions, Q&A sessions, Industry master Interactions, Roundtable gatherings, Best Poster grants, Best Oral introduction grants, Young Researcher Forums (YRF), E-notice introductions, Video introductions by the specialists from both Industry and Academic. The Laser Photonics 2020 will highlight on various tracks spread the two scholastics and Industrial perspectives. Around 45 nations are taking an interest to hear the most recent scientists and to mark their items by shows.
The Laser Photonics 2020 Market is relied upon to reach $18 Billion by 2024. Geologically, North America represents the most elevated piece of the overall industry pursued by Asia-Pacific. The Asian nations particularly China and India are the quickest developing areas. Asia-Pacific is anticipated to develop with a most noteworthy CAGR from 2017 to 2024.
Scientific Sessions : Optical Imaging and Sensing; Optics in Astronomy and Astrophysics; Laser absorption Spectroscopy; Trending technologies in Photonics and Lasers; Application of Lasers and photonics in Industries; Virtual world of Photonics; Micro photonics; Biophotonics ; Nano Photonics ; Fiber Optic Lasers ; 3D Laser Triangulation; Laser communications; Laser controlled areas; Laser detectors; Laser Photochemistry
Major Engineering Societies and Associations around the Globe
IAENG Society of Data Mining, USA
Society of Data Miners
International Educational Data Mining Society
SIAM society for industrial and applied mathematics
IEEE COMPUTER SOCIETY
The American Society of Mechanical Engineers
American Institute of Aeronautics and Astronautics,
American Helicopter Society
The Royal Aeronautical Society
Society of Flight Test Engineers.
Aerospace Industries Association
AHS International - The Vertical Flight Society
American Astronautical Society
Association for Unmanned Vehicle Systems International
Experimental Aircraft Association
IEEE Robotics and Automation Society,
Danish Industrial Robot Association,
Automated Imaging Association
The Robotics Society of America
Japan Society of Civil Engineers
American Society of Civil Engineers,
Institution of Civil Engineers.
Institution of Structural Engineers,
Civil Engineering Society
The Institution of Engineering and Technology,
National Society of Professional Engineers,
American Wind Energy Association,
Citizen Partnerships for Offshore Wind (CPOW)
European Wind Energy Association
American Council on Renewable Energy
American Solar Energy Society.
International Network for Sustainable Energy (INFORSE),
Office of Energy Efficiency and Renewable Energy
Renewable Energy and Energy Efficiency Partnership (REEEP),
Renewable and Appropriate Energy Laboratory,
Solar Energy Industries Association,
German Wind Energy Association,
German Energy Agency
German Renewable Energy Federation (BEE)
,German Association of Renewable Energies,
EUROSOLAR – European Association for Renewable Energy
FISITA Promoting Excellence in Mobility Engineering
Vehicular Technology Society
SAE International Automotive
ACMA Associations
Indian Society of mechanical Engineers
American Society of Mechanical Engineers
IEEE Intelligent Transportation Systems Society
THE CZECH ASSOCIATION OF SCIENTIFIC AND TECHNICAL SOCIETIES
BIG BAJA SOCIETY OF AUTOMOTIVE ENGINEERING
Automotive Research Association of India
SAE VEITNAM
The International Society of Automation
Control System Integrators Association
The Automation Association
Association for Advancing Automation
AMT - The Association for Manufacturing Technology
Automation federation
National Science Foundation
British Automation & Robot Association
Canadian Tooling & Machining Association
European Design and Automation Association
British Automation & Robot Association
American Automatic Control Council
Association for Manufacturing Technology
American Society of Mechanical Engineers
Control System Integrators Association
National Association of Electrical Distributors
The Material Handling Equipment Distributors Association
Imperial College Robotics Society
The Wireless Infrastructure Association
The Wireless Internet Service Providers Association (WISPA)
Communication Marketing Association
AGMA - American Gear Manufacturers Association
Aerospace Industries Association (AIA)
American Bearing Manufacturers Association
International Society for Clinical Biostatistics
Society for Clinical Trials
The Canadian Society for epidemiology and Biostatistics
American Statistical Association
Statistical Society of Australia
Statistical Modelling Society
Royal Statistical Society
International Chinese Statistical Association
The Canadian Society for epidemiology and Biostatistics
SSC Statistical Society of Canada
Società Italiana di Bioinformatica
Swiss Institute of Bioinformatics
International Society for Computational Biology - ISCB
PSI Statisticians in the Pharmaceutical Industry
International Biometric Society
IBS-WNAR Western North American Region of the International Biometric Society
International Biometric Society
Biometric Foundation
British Security Industry Association
Centre for Biometrics and Security Research
Canada - Atlantic Canada Clinical Engineering Society,
International Federation for Medical and Biological Engineering
Canadian Medical and Biological Engineering Society
Australia - Society for Medical and Biological Engineering
Ireland - Biomedical / Clinical Engineering Association
Mexican Society of Biomedical Engineering
Puerto Rico Biomedical Association,
Alabama Biomedical Society
Colorado Association of Biomedical Equipment Technicians (CABMET)
Florida Biomedical Society,
Georgia Biomedical Instrumentation Society (GBIS)
Indiana Biomedical Society,
New England Society of Clinical Engineering (NESCE)
Biomedical Society of Western New York
Biomedical Associations of Wisconsin (BAW),
Washington Biotechnology & Biomedical Association,
Oregon Biomedical Association
North Carolina Biomedical Association
Biomedical Society of Western New York
Institute of Industrial and Systems,
Institute of the Motor Industry
The American Society of Mechanical Engineers
IEEE Robotics and Automation Society.
Danish Industrial Robot Association
Automated Imaging Association
The Robotics Society of America.
Major Engineering Conferences around the Globe:
International Conference on Robotics, Mechanics and Thermal Control Technologies (RMTCT-16) Kuala Lumpur (Malaysia) Jan. 5-6, 2016 Kuala Lumpur, Malaysia
10th International Conference on Intelligent Systems and Control (ISCO 2016) January 7, 2016, Coimbatore, India
First IEEE International Conference on Control, Measurement and Instrumentation (CMI 2016) January 8, 2016Kolkata, India
The 9th International Conference on Robotics, Vision, Signal Processing & Power Applications (ROVISP 2016) February 2, 2016 Penang, Malaysia
IPN-International Conference on Aerospace Structure and Control (ICASC 2016) February 26, 2016 Penang, Malaysia
4th International Building Control Conference 2016 (IBCC 2016) March 7, 2016, Kuala Lumpur, Malaysia
2nd International Conference on Mechanical and Control Engineering (ICMCE 2016) March 11, 2016 Bandung, Indonesia
International Conference on Pollution Control & Sustainable Environment April 25, 2016 DUBAI, United Arab Emirates
Urban Water 2016 June 27, 2016, Venice, Italy
3rd International Conference on Agricultural and Food Engineering August 23, 2016, Kuala Lumpur, Malaysia
7th International Conference on Mechanical, Industrial, and Manufacturing Technologies-MIMT February 1, 2016, Cape Town, South Africa
International Conference on Engineering and Technology February 19, 2016, Colombo, Sri Lanka
8th International Conference on Machine Learning and Computing (ICMLC 2016) February 22, 2016, Hongkong
The 16th International Conference on Civil and Architectural Engineering (ICCAE) February 13, 2016, Bangkok, Thailand
RW-13th International Conference on Civil and Environmental Engineering (I2C2E) February 16, 2016, Dubai, United Arab Emirates
IASTEM-The 17th International Conference on Civil and Architectural Engineering (ICCAE) February 18, 2016, Sharjah, United Arab Emirates
RW-12th International Conference on Civil and Environmental Engineering (I2C2E) February 21, 2016, Riyadh, Saudi Arabia
IASTEM-The 18th International Conference on Civil and Architectural Engineering (ICCAE) February 22, 2016, Brussels, Belgium
International Conference on Building Materials and Construction-ICBMC Ho Chi February 24, 2016, Minh, Vietnam
ICCMEET February 26, 2016, Coimbatore, India
IASTEM-The 19th International Conference on Civil and Architectural Engineering (ICCAE) February 4Boston, United States of America
SAE 2016 Heavy-Duty Diesel Emissions Control Symposium, September 20-21, 2016 Gothenburg, Sweden
2016 North American International Powertrain Conference, September 21-23, 2016 Chicago, Illinois, USA
SAE 2016 Brake Colloquium & Exhibition-34th Annual, September 25-28, 2016 Scottsdale, Arizona, USA
SAE 2016 Thermal Management Systems Symposium, October 18-20, 2016 Mesa, Arizona, USA
SAE 2016 International Powertrain Fuels & Lubricants Meeting, October 24-26, 2016 Baltimore, Maryland, USA
Small Engine Technology Conference & Exposition, November 15-17, 2016 Charleston, South Carolina, USA
20th International Colloquium Tribology, January 12-14, 2016 Esslingen, Germany
Sensoren in Automobile, April 05-07, 2016 Munich, Germany
VEHITS 2016, April 23-24, 2016 Rome, Italy
Tagung Diagnose in mechatronis chen Fahrzeug systemen, May 10-11 2016 Dresden, Germany
International conference on Electronic Systems in Hybrid and Electric Vehicles and Electrical Energy Management, June 08-09 2016 Wiesloch, Germany
International Conference On Automotive Manufacturing 2016, June 22-25 2016 Bangkok, Thailand
EALA-European Automotive Laser Applications 2016, February 16-17 2016, Bad Nauheim, Germany
Strategies in Car Body Engineering 2016, February 23-24 2016 Bad Nauheim, Germany
Micro/Nanoscale Heat & Mass Transfer International Conference, January 4-6, 2016 Singapore, Singapore
NanoEngineering for Medicine and Biology Conference, February 21-24, 2016 Houston, TX, USA
HYDRAULIC FRACTURING Conference & Exhibition, March 7-10, 2016 Houston, TX, USA
OTC Asia 2016, March 22-25 2016 Kuala Lumpur, Malaysia
Joint Rail Conference, April 12-15, 2016 Columbia, USA
ASME Turbo Expo, June 13-17, 2016 Seoul, South Korea
ASME Conference On Power & Energy , June 26-30, 2016 Charlotte, USA
2016 Pressure Vessels & Piping Conference, July 17-21, 2016 Vancouver, Canada
Water Resources and Hydropower Development in Asia National Convention Centre, Road 13, March 1, 2016, Vientiane, Lao Peoples Democratic Republic
Smart Cities and Green Innovation, March 1, 2016, Ajman, United Arab Emirates
International Academic Business Conference March 6, 2016, New Orleans, United States of America
7th Health and Environment Conference March 6, 2016 Dubai, United Arab Emirates
8th International Conference On Sustainable Built Environment March 7, 2016 Hamburg: Strategies-Stakeholders-Success factors Hamburg, Germany
9th Egypt Renewable Energy Leaders March 8, 2016, Cairo, Egypt
International Academic Business Conference in June 5, 2016, Venice, Italy
Waste Management June 7, 2016 Valencia, Spain
Environmental Impact June 8, 2016 Valencia, Spain
ACSEE2016-The Asian Conference on Sustainability, Energy & the Environment June 9, 2016 Kobe, Japan
Materials, Methods and Technologies June 18, 2016.
The 9th International Conference on Architectural Engineering (ICCAE) January 9, 2016 Bali, Indonesia
RW-5th International Conference on Civil and Environmental Engineering (I2C2E) January 9, 2016, Doha, Qatar
International Conference on Civil, Architecture and transportation Engineering (CATE-16) January 10, 2016 UAE Dubai, United Arab Emirates
3rd International Conference on Geological and Civil Engineering (ICGCE 2016) January 12, 2016, Penang, Malaysia
IASTEM-The 10th International Conference on Civil and Architectural Engineering (ICCAE) January 15, 2016, Chengdu, China
RW-6th International Conference on Civil and Environmental Engineering (I2C2E) January 16, 2016, Bangkok, Thailand
3rd International Conference on Engineering and Natural Science (3rd ICENS) January 19, 2016, Bangkok, Thailand
6th International Conference on Economics, Management and Engineering Sciences January 20, 2016, Brussels, Belgium
4th International Conference on Bioinformatics and Computational Biology, February 2-4,2016, ICBCB Kuala Lumpur, Malaysia
3rd International Conference on Biological and Environmental Engineering (CBEE-2016) February 4, 2016 Bali, Indonesia
3rd International Conference on Biotechnology and Bioinformatics (ICBB-2016) February 5, 2016 Pune, India
SPIN Noida,, February 11-12, 2016, India
SPIE BiOS 2016 San Francisco, February 13-15, 2016, United States of America
SPIE Photonics West 2016 February 13-15, 2016, San Francisco, United States of America
Genome Editing and Engineering Conference February 18-20, 2016, San Diego, United States of America
NGS Conference On Data Analysis and Informatics Conference February 18-20, 2016, San Diego, United States of America
The Biomarker Conference February 18-20, 2016, San Diego, United States of America
Second International Conference on Engineering and Technology February 19-20, 2016, Colombo, Sri Lanka
11th International Conference on Healthcare and Biological Research (ICHBR), Dubai, 21-22 February 2016 Dubai, United Arab Emirates
The 9th International Joint Conference on Biomedical Engineering Systems and Technologies – BIOSTEC 2016 21-22 February 2016, Rome, Italy
International Conference on Biochemistry and Molecular Biology April 27-28, Venice, Italy
The 24th Iranian conference on Electrical Engineering (ICEE 2016) May 10-12, 2016, Shiraz, Iran
2016 Conference on Biodiversity and Ecosystems June 1-2, 2016, Vienna, Austria
The 4th Current Drug Development International Conference 2016 (CDD2016) June 1-2, 2016, Patong, Phuket, Thailand
International Conference Information Technologies in Biomedicine (ITIB) June 20-22, 2016, Kamien Slaski, Poland
International Conference on Computing and Communication January 28-29, 2016 India
International Conference on System Modelling and Optimization February 18-19, 2016 France
1st Journal Conference on Knowledge Engineering February 22-23, 2016 China
3rd International Conference on Advances in Electronics Engineering February 22-23, 2016 Hong kong
8th International Conference on Machine Learning and Computing February 22-23, 2016 Hong kong
4th International Conference on Information and Computer Networks February 22-23, 2016 Hong Kong
International Conference on Computer Science, Business, Economic and Management February 26-27, 2016 Singapore
The 8th International Conference on Computer Research and Development February 26-28, 2016 Vietnam
4th International Conference on Intelligent and Automation Systems February 26-28, 2016 Vietnam
European Sustainable Development on Technology & Sciences Research Conference, February 17-20, 2016 U.K
4th International Conference on Intelligent and Automation Systems February 26-28, 2016 Vietnam
2nd International Conference on Information Technology March 03-04, 2016 Australia
11th International Conference on Cyber Warfare & Security March, 17-18, 2016, Boston, Massachusetts, United States of America
6th International Conference on Computational Intelligence and Communication Network April 23-24, 2016 Singapore
World Bioinformatics 2016, March 28-29, 2016, VALENCIA, Spain
2016 Spring Global Symposium on Information and Network Security, April 22-23, 2016, Los Angeles, California, United States of America
The Sixth International Conference on Digital Information Processing and Communications (ICDIPC2016), April 21-23, 2016, Beirut, Lebanon
ST on AI and CS, May 16-18, 2016, Key Largo, Florida, United States of America
International Conference on Business and Cyber Security (ICBCS) London-UK, May 12-23, 2016, London, United Kingdom
ST on AI and CS, May 16-18, 2016, Key Largo, Florida, United States of America
9th Workshop SDS2016 "STRUCTURAL DYNAMICAL SYSTEMS: Computational Aspects" June 14-17, 2016, Capitolo, Monopoli, Bari, Italy
7th International Conference from Scientific Computing to Computational Engineering, July 6-9, 2016, Athens, Attiki, Greece
15th European Conference on Cyber Warfare and Security ECCWS-2016, July 7-8, 2016, Munich, Germany
The 12th International Conference on Computing and Information Technology (IC2IT 2016), July 7-8, 2016, Meaung Khon Kaen, Khon Kaen, Thailand
4th Annual International Conference on Operations Research and Statistics (ORS 2016), January 18-19 2016 Singapore
4th International Conference on Data Mining & Knowledge Management Process January 22-23, 2016, UAE